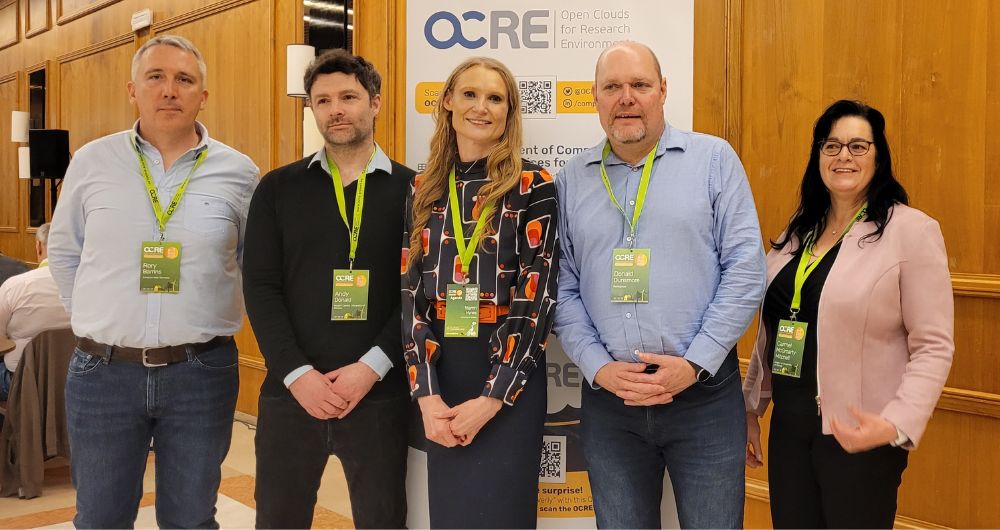 FOR IMMEDIATE RELEASE
2nd Feb 2023
Insight SFI Research Centre for Data Analytics secures cloud computing credits worth €650k for two ground-breaking research projects
These two collaborative projects will showcase the potential of utilising commercial cloud computing and digital services to improve research outputs.
Insight SFI Research Centre for Data Analytics at the University of Galway has been awarded cloud computing credits worth €650k under the Open Clouds for Research Environments Framework (OCRE) for two collaborative research projects in Digital Twins in Medtech and Digital Healthcare and the Internet of Things, AI and Environmental Sensing.
Cloud computing services provide a rich environment for improving research outputs. In addition, the methods and outcomes of the collaborative projects will lead to data publishing via the EU Open Data Directive, facilitating further research. The cloud credits secured by Insight have been awarded by GEANT and distributed via the OCRE framework following a mini tender competition. Rackspace Technology who are the contracted Partner for Amazon Web Services (AWS) in Ireland supported Insight in bidding for the funding and will support the project going forward.
Insight experts in AI and Data Analytics will utilise the cloud computing credits to facilitate what can be computationally exhaustive and time-consuming methods to scale up and expand the research projects, reaching new users and opening exciting new avenues of research.
Previously, similar projects would have been restricted in their development due to their dependence on locally available computing resources. Cloud services have the potential to mitigate both the significant cost and technical issues intrinsic within the expansion of local processing power.
Professor Edward Curry, Director of the Insight SFI Research Centre for Data Analytics at the University of Galway, said: "Insight researchers are at the leading edge in developing next-generation technologies. This collaboration with OCRE, AWS and Rackspace ensures our researchers have access to computing infrastructure that matches their world-leading ambition."
The EU cloud project Open Clouds for Research Environments aims to accelerate cloud adoption in the European research community by bringing together cloud providers, Earth Observation (EO) organisations and the research and education community, through ready-to-use service agreements
and €9.5 million in adoption funding.
Rory Barrins, Education & Research Lead, Ireland, Amazon Web Services, said: "The OCRE Cloud Framework has proven to be key enabler for higher education and research institutions, removing barriers to cloud access and accelerating research across the European Union. We are delighted to support the efforts of the Insight SFI Research Centre for Data Analytics at the University of Galway and look forward to the success of these innovative research projects."
Insight CEO Prof Noel O'Connor said: "This award will significantly contribute to advancing Insight's existing world-class research into Digital Twins and the Internet of Things, whilst furthering Ireland's contribution to the European Open Science Cloud. It is a clear demonstration of the benefit of EU-wide shared services like OCRE to both researchers and commercial providers."
ENDS
Insight SFI Research Centre for Data Analytics
The Insight SFI Research Centre for Data Analytics is one of Europe's largest data analytics research organisations, with over 450 researchers, more than 80 industry partners and €150+ million in funding. Its research spans Fundamentals of Data Science, Sensing and Actuation, Scaling Algorithms,
Model Building, Multi-Modal Analysis, Data Engineering and Governance, Decision Making, and Trustworthy AI.
Insight is made up of four host institutions at DCU, University of Galway, UCC and UCD. Insight's partner sites are Maynooth University, Tyndall, TCD and UL.
Pictured L-R: Rory Barrins, Education & Research Lead, Ireland – Amazon Web Services, Andy Donald, Research Fellow, Insight SFI Research Centre for Data Analytics, University of Galway, Niamh Hynes, Funded Investigator, CÚRAM, University of Galway, Donald Dunsmore, Director, Education and Research EMEA, Rackspace Technology and Carmel McGroarty Mitchell, Business Development Manager, Insight SFI Research Centre for Data Analytics, University of Galway