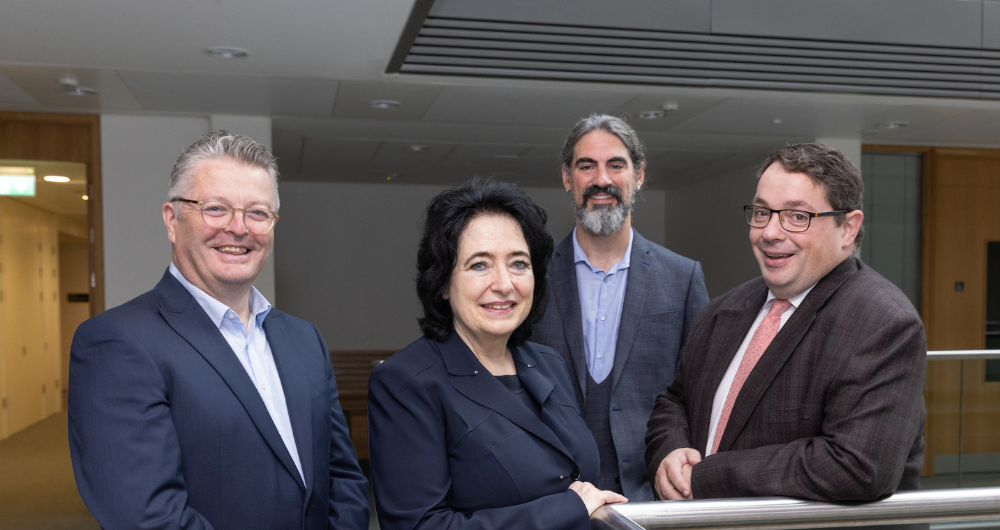 For Immediate Release
6th September 2022
Insight SFI Centre at UCC to coordinate €9 million project to develop Europe's AI-on-demand Platform
A University College Cork-led research consortium has secured €9 million from the European Union to develop the next phase of Europe's strategically important artificial intelligence infrastructure known as the AI-on-demand (AIOD) platform.
The project, which runs until the end of 2025, is led from UCC by Professor Barry O'Sullivan, Dr. Gabriel Castane-Gonzalez, Shaun Gavigan, and Tanvir Badwal, of the Insight SFI Research Centre for Data Analytics and School of Computer Science and Information Technology. With UCC, the consortium comprises an additional 23 partners across 14 other European countries: Belgium, France, Finland, Germany, Greece, Italy, Netherlands, Norway, Portugal, Romania, Slovakia, Slovenia, Spain, and Sweden. The project kickoff meeting takes place in UCC on the 6th and 7th of September.
The objective of the AI-on-demand platform is to bring together Europe's AI community while promoting European values. The platform serves as a catalyst to aid AI-based innovation, resulting in new products, services, and solutions to benefit European industry, commerce, and society. By bringing people together, the community resource seeks to address the fragmentation of the European AI landscape and facilitate technology transfer from research to business. Initiated in 2019 with the support of the European Commission, the platform will continue to develop over the coming years through further investment that will see the platform add additional services and tools.
AI4Europe builds on the work of the AI4EU project, as well as an ever developing ecosystem of European-funded projects related to artificial intelligence. Equipped with the necessary hardware, the platform will offer interoperable services, data, and tools from several related communities and provide solutions to facilitate research productivity, reproducibility, and collaboration. AI4Europe will establish and support mechanisms to foster exchange between academia and industry and ensure the platform reaches out to and engages with the next generation of researchers, innovators, business, across Europe.
Professor John O'Halloran, President of UCC, said: "We are grateful and proud that the European Commission has entrusted the leadership of this project with us at UCC. As the academic home of George Boole we are delighted to see our continued leadership in the underpinnings of AI recognised through this strategically important project. Great congratulations to Professor O'Sullivan and his team on this fantastic achievement. I wish them and their consortium colleagues every success with this initiative."
Professor John Cryan, Vice President for Research and Innovation at UCC, reacting to the success said: "At UCC we're delighted with this great success and tremendous honour to be selected to coordinate this amazingly important AI project. I congratulate Professor O'Sullivan and his team at Insight, and look forward to supporting this initiative through our UCC Futures strategy."
Professor Barry O'Sullivan, Director of Insight at UCC and AI4Europe Coordinator, said: "The AI-on-demand platform is a critically important strategic infrastructure and ecosystem to ensure that Europe is at the cutting-edge of AI. We're delighted to take on the leadership role in the next phase of its development. Through the dissemination of research expertise and results, and through to the adoption of AI technologies in industry and the public sector, we will support the uptake of trustworthy AI in Europe. We will also bring together the many education and training assets needed to ensure that Europeans have the skills necessary to maximise the benefit of AI technology in an ethical and human-centric manner."
Cécile Huet, Head of the Unit, Robotics and Artificial Intelligence Innovation and Excellence, European Commission, said: "The Commission plans to invest €1 billion per year in AI, targeting to reach an annual investment of €20 billion over the course of the digital decade, mobilising additional investments from the private sector and the Member States. The AI-on-Demand platform is a fundamental building block of the Commission strategy on AI, aiming at making Europe a world leader in human-centric and trustworthy AI. We feel very excited about the start of the AI4Europe project: It represents a decisive step forward to the implementation of this strategy."
Dr. Gabriel Castane Gonzalez, AI4Europe Programme Manager, said: "At UCC we are delighted to lead such a strong consortium of organizations. The expertise and network of our partners mean the project is in a strong position to advance the AI-on-demand platform as a community initiative built for and by Europe's AI researcher community."
Professor Noel O'Connor, CEO of Insight, said: "On behalf of Insight, Ireland's largest research centre specialising in AI and data analytics, we are proud to be leading this landmark project. We are excited to have the opportunity to further develop our foundational involvement in the origins of the AI-on-demand platform and its ecosystem, and now contribute as coordinator."
[Pictured: Professor Barry O'Sullivan, AI4Europe Coordinator and Director, Insight Centre for Data Analytics, School of Computer Science, University College Cork, Susanne Kuehrer, Project Coordinator, EIT Digital, Dr. Gabriel Castane Gonzalez, AI4Europe Programme Manager, Insight Centre for Data Analytics, School of Computer Science, UCC and Professor John Cryan, Vice President for Research and Innovation, UCC. Photo By Tomas Tyner, UCC]
– END –
More Information
For more information about the AI-on-demand platform please visit:
https://www.ai4europe.eu/about-ai-on-demand-platform
Insight SFI Research Centre for Data Analytics
The Insight SFI Research Centre for Data Analytics is one of Europe's largest data analytics research organisations, with over 450 researchers, more than 80 industry partners and €100+ million in funding. Its research spans Fundamentals of Data Science, Sensing and Actuation, Scaling Algorithms, Model Building, Multi Modal Analysis, Data Engineering and Governance, Decision Making and Trustworthy AI.
Insight is made up of four host institutions at DCU, University of Galway, UCC and UCD. Insight's partner sites are Maynooth University, TCD, Tyndall and UL.