FOIREANN is a project that aims to enable the analysis and study of data on physical activity across gender, age location and game type. Professor Mark Roantree of Insight@DCU writes:
An active lifestyle is extremely important for current and future health with high levels of physical activity associated with a wide range of benefits, such as improved cardiometabolic health and lower incidence of illness and disease. Regular engagement in physical activity positively impacts mental wellbeing, reduced levels of depression and anxiety, and increased self-reported quality of life.
The current physical activity guidelines for children and adolescents recommend a minimum of 60 minutes of moderate to vigorous physical activity each day. For adults, at least 30 minutes of moderate intensity activity on five days per week. Participation in team sport plays a key role for many in meeting these guidelines, with organisations such as the Gaelic Athletic Association (GAA), the Ladies Gaelic Football Association (LGFA), and the Camogie Association embedded in communities all across the country.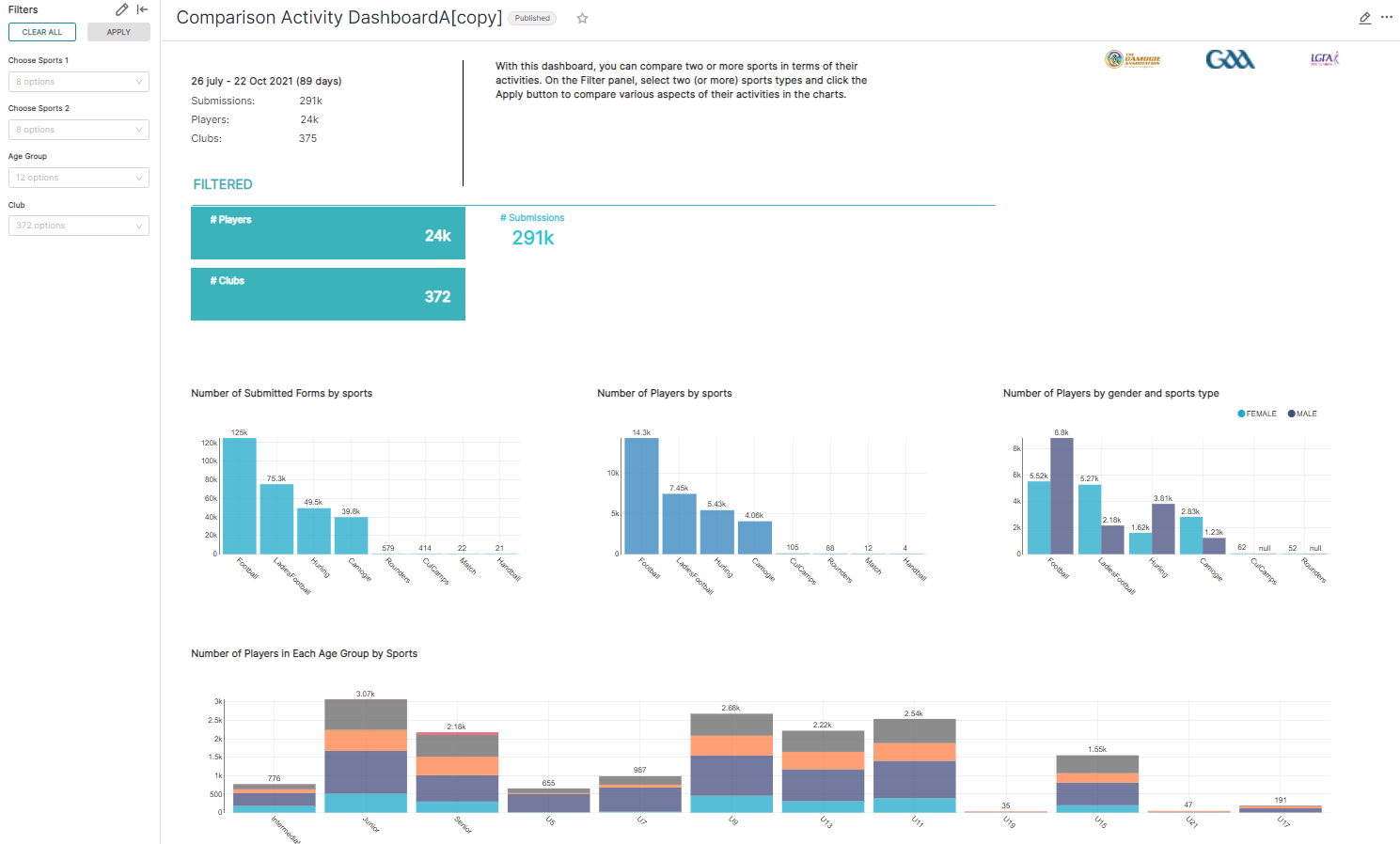 According to a report published in May of 2020 by Sport Ireland, national restrictions imposed to limit the spread of Covid-19 caused a significant decline in team sport participation. In an effort to combat this decline, the GAA, LGFA and Camogie Association have teamed up with Insight @ DCU to use club and intercounty engagement during Covid-19 to better understand the levels of activity and engagement across age, gender, location and each of the different sports promoted by the GAA.
A multi-disciplinary research team led by Professor Mark Roantree are using approx. 20 million records of engagement in training and games to construct a knowledge portal to enable analysis and to extract datasets for machine learning. The team comprises researchers Dr. Aidan Brady (Sport and Exercise); Dr. Michael Scriney and Dr. Jaime Fernandez (machine learning and data engineering), Dr. Hyowon Lee and Rashia Tasnim (Human Computer Interaction Design).